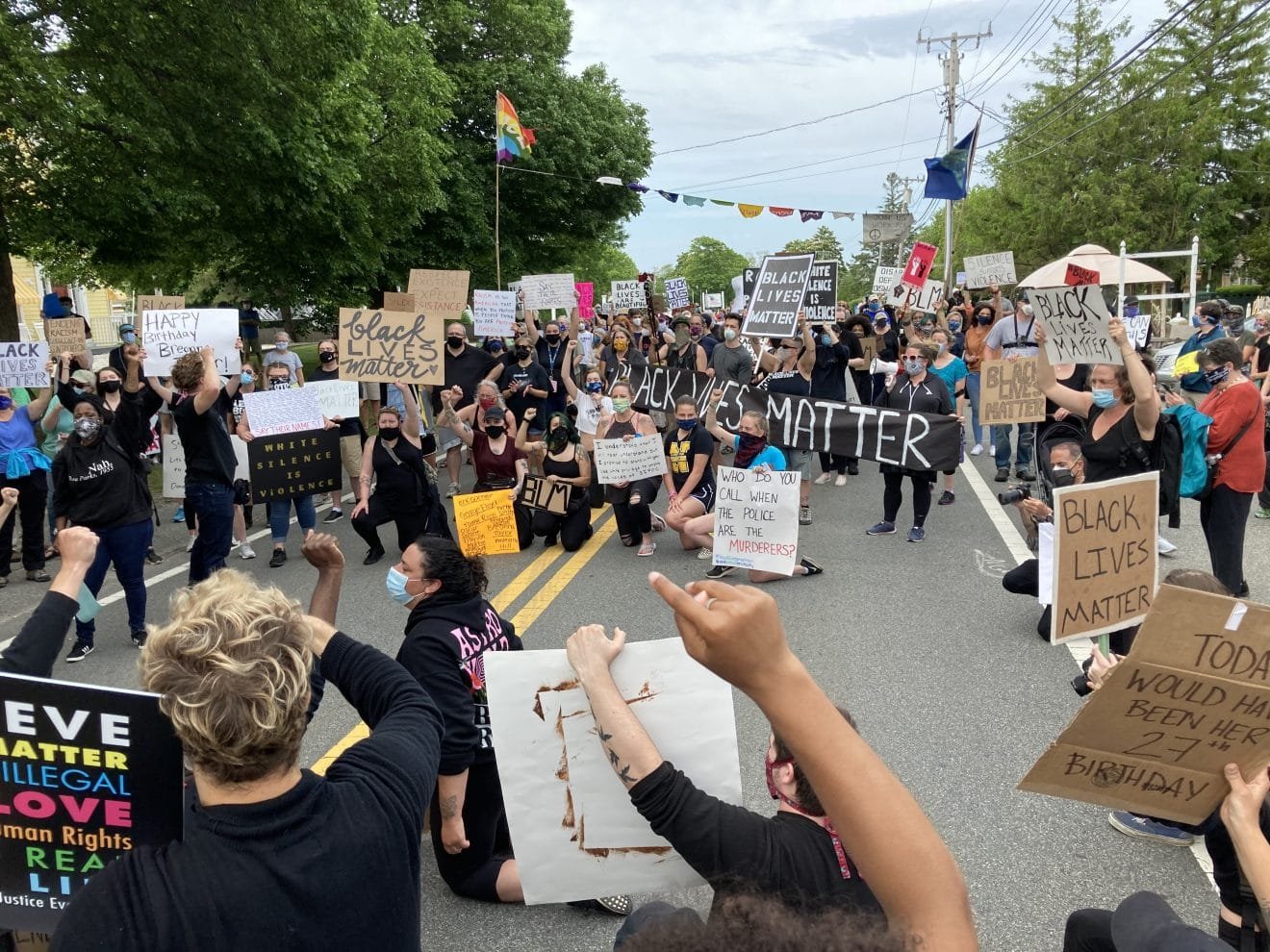 Greetings friends and family.
I learned something new this week about a Beatles song I'd practiced way back when ~ Blackbird. The guitar part mesmerized millions and the music, it turns out, was inspired by Bach. According to Paul McCartney this iconic song was written in 1968 (the year Dr. Martin Luther King Jr. was assassinated) and lyrically responded to the chaos of what would come to be remembered as a time of demonstration, death and despair. Sound familiar?

"Those were the days of the civil-rights movement, which all of us cared passionately about," Paul said, "so this was really a song from me to a black woman, experiencing these problems in the States: 'Let me encourage you to keep trying, to keep your faith, there is hope.'

Fifty-two years later my sleepy little town of Orleans, MA took to the streets on June 5th, and as you can see above, many, many turned out and peacefully walked from Main Street to the windmill park where we knelt in silence for nearly 9 minutes in the memory of George Floyd and countless others who fell and fall victim to institutionalized racism, privilege, and impunity. Our police officers were as helpful and courteous as the marchers, and if any rabble-rousers, trouble-makers, or violence-inciters were in attendance, they made no moves.

Sleep no more. Please march to your polling place in November and stake your claim to what rings true for you. Every vote counts, everywhere. Engage those you don't agree with. Find common humanity (it's there). Dismissing or ignoring gets nobody anywhere. If you're looking for a cause or place to put your energies in your state, consider looking for those seeking to uphold voting rights for those who would otherwise be disenfranchised and not counted.
So much for last month's bright idea of "song of the week"! What's developed is that I've been writing and co-writing AND ruminating and pondering without a trigger finger to "get something out there" before it's fully blossomed. This feels right to me. The songs are here. I'll bring them to you when it's their time. Thanks for your patience and ongoing support and interest.

Since the last newsletter I've been invited virtually to conferences, coffeehouses, venues, meetings, worship services, house concerts, classes, custom songs, and more. It's never been easier or more environmentally friendly for me to get to you and your gathering. Operator standing by.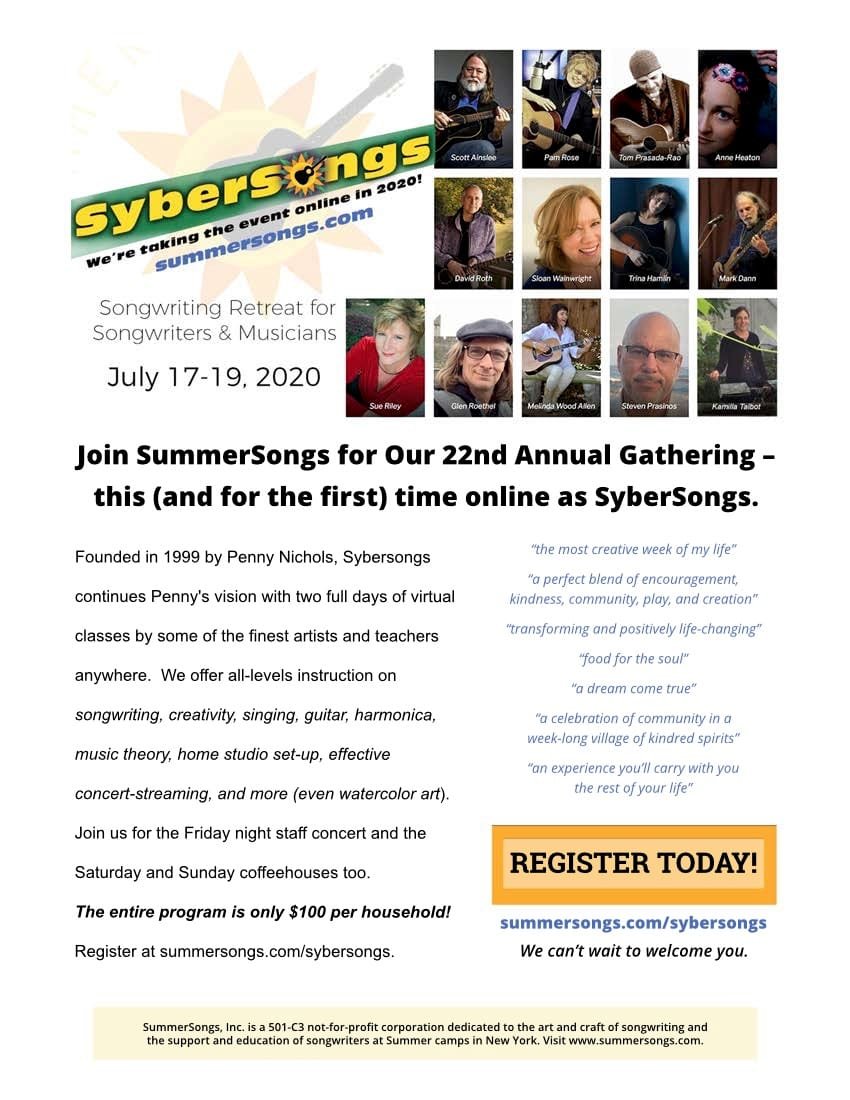 About four weeks to go til we launch SYBERSONGS...our ALL-levels adventure into songwriting, creativity, music, and more. It's also an incredible deal at $100 per household for the entire weekend of events: https://www.summersongs.com/sybersongs/
Please feel free to forward the flyer around to your friends and communities. Join ours!

And IF we're able to gather in person next January and March I'm proud to introduce the staff of artist/instructors for year # 8 of the Cape Cod Songwriters Retreats...joining returnees Sloan Wainwright and Cosy Sheridan are Abbie Gardner, Jud Caswell, and Alastair Moock. The Lands End Inn is a special place. Get in touch with me soon to hold your room...and worry not, a flexible and robust refund policy will reign, especially if we aren't able to attend in the flesh.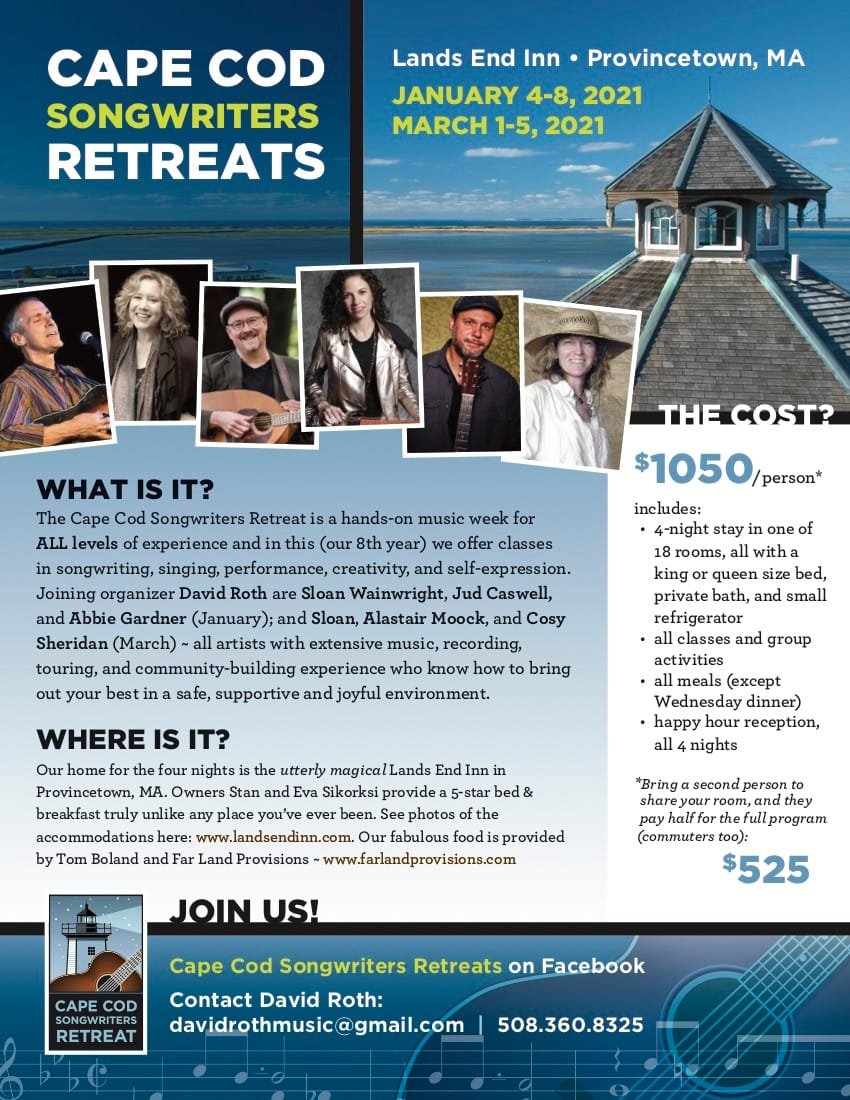 with fingers and toes still crossed:
JUNE
23-25 ONLINE ~ National Urban Alliance (NUA) conference
28 ONLINE ~ music for the New Way People of Diversity (POD)
28 ONLINE ~ music for Unity of Citrus County
29-30 ONLINE Common Ground on the Hill

JULY
1-3 ONLINE ~ Common Ground on the Hill

continues


17-19 ONLINE ~ SyberSongs songwriting weekend


* with Scott Ainslee, Pam Rose, Tom Prasada-Rao, Anne Heaton, Sloan Wainwright, Trina Hamlin, Mark Dann, Steven Prasinos, Melinda Wood Allen, Glen Roethel, Sue Riley, and Kamilla Talbot


28 ONLINE ~ Crosslands

AUGUST

14-19 Salmon, ID ~ Rafting the Main Stem of the Salmon River trip
*9 spaces now open

SEPTEMBER

23 Douglas, MI ~ 7 PM @ Unity on the Lakeshore
24 East Lansing, MI ~ East Lansing Public Library
26 Garden City, MI ~ 6 PM ~ Garden City Presbyterian (umpteenth annual)
27 Shelby Township, MI ~ 4 PM ~ Disabled Veterans Hall concert

OCTOBER
1 Bethlehem PA ~ Godfrey Daniels w/Anne Hills
2 Saratoga Springs, NY ~ Caffe Lena w/Anne
3 Oswego, NY ~ Oswego Music Hall w/Anne
4 Ithaca, NY ~ Bound for Glory w/Anne
17 St Croix Falls, WI ~ Dancing Dragonfly Winery (8th annual)

Still hangin' in there...hope you are too...we'll get to the other side.