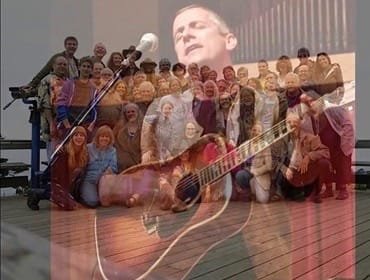 Hi friends and neighbors. The world as we know it is changing, and where we as a species have been reluctant to change, Mother Nature steps in and says enough. I hope you and yours are safe and well. Local politicians like governors and mayors have more of a handle on the truth of this than our national leaders, and true colors emerge everywhere.
Kudos to those in service of the greater good, plain and simple.

In search of that greater good, I've worked with my sponsors and friends who all agree that now cannot be the time to gather together in person.
Thus, all appearances through May for yours truly are suspended and will hopefully be rescheduled at a later point in time. As many independent artists are doing, I'm turning to the internet for an online get-together, and it's right upon us this week...Wednesday, March 25th 7-8 PM EDT...one crisp (!) hour and here are links:


I'll start with "Rising in Love" (from my first CD in 1993) and chronologically play one song each from ensuing recordings (I have 15 now, and we'll see how far we get in an hour). As you can imagine, streaming has never been more overworked than nowadays, so kindly pardon any technical glitches or less than record-quality sound. Know that I'll be working to learn and refine as we go in the weeks to come and will do more of these. Your comments via e-mail after the show will be helpful in terms of tech and your experience of this platform. Thanks in particular to Maura Kennedy, Senator Cheryl Kagan, Sally Sparks, and Deb Cornish for lending technical advice thus far!

Distance socializing R Us.
Digging through my closet (!) - I've found the last 6 copies left on my Songbook Volume 1 (and these won't be reprinted, as the PDF files of all the music is now contained on my flash drive) and 8 "Have Couge" (Courage without the Rage) t-shirts ~ 2 small, 1 medium, 4 large, and 1 XL ~ all are $18 postpaid, but write me to make sure I still have what you might want ~ davidrothmusic@gmail.com ~ thanks!
I'll also be available for Skype sessions - songwriting, stagecraft, alternate guitar tunings for songwriters, getting organized, creative marketing, and just about anything related to "singer/songwriter" we can think of.


Take good care out there. A better world will emerge.


JUNE
4-13 Cork, Kerry, Clare Ireland ~ Inishfree Music Tour
(last minute spot for 1 or a couple - write me asap)
28-30 Westminster, MD ~ Common Ground on the Hill

JULY
1-3 Westminster, MD ~ Common Ground on the Hill

continues


13-15 Beverly, MA ~ Jewish Songwriters Cooperative @ Endicott College
19-25 Stony Point, NY ~ 22nd Annual SummerSongs music camp!
26 Havre de Grace, MD ~ songwriting wkshp/concert w/Sloan Wainwright
28 Kennett Square, PA ~ 7:30 PM @ Crosslands

AUGUST

8-17 Cork, Kerry, Clare Ireland ~ Inishfree Music Tour (space now available)
23 Douglas, MI ~ 7 PM @ Unity on the Lakeshore
24 East Lansing, MI ~ East Lansing Public Library
26 Garden City, MI ~ Garden City Presbyterian (umpteenth annual)
27 Livonia, MI ~ AM @ Unity of Livonia (tent)

OCTOBER
1 Bethlehem PA ~ Godfrey Daniels w/Anne Hills
2 Saratoga Springs, NY ~ Caffe Lena w/Anne
3 Oswego, NY ~ Oswego Music Hall w/Anne
17 St Croix Falls, WI ~ Dancing Dragonfly Winery (8th annual)
28-31 Lee's Summit, MO ~ 15th Annual Positive Music Festival