Hello out there, this new month from Mexico as we wind down on 2019.
For more than ten years we've visited our beloved village of Yelapa, MX for Tricia's Yoga retreats and forays into nearby Puerto Vallarta.
On September 29th Yelapa was consumed by Tropical Storm Narda starting with torrential rains and flooding, and over the ensuing weeks this soulful (and accessible only by boat) town has now been receiving a flood of a different source - relief. We've been happy to be part of this effort to support our friends, and as you can see, boatloads of mattresses, bed frames, refrigerators, donations, and more have found their way into the bay. This week we've brought down 300 pounds of bedding - sheets and pillow cases that we collected from our amazing community on Cape Cod at a concert that also raised several thousand dollars for http://yelapafloodrelief.com/


There is kindness yet in this world.
We had another "full house" at Station Avenue Elementary on Cape Cod for their annual Thanksgiving Assembly. It's always a thrill to hear 400+ kids singing "We Belong Together", "My Voice Matters", and "May the Light of Love" at the top of their lungs (as taught every year by resident music teacher Suzanne Christie). Thanks indeed!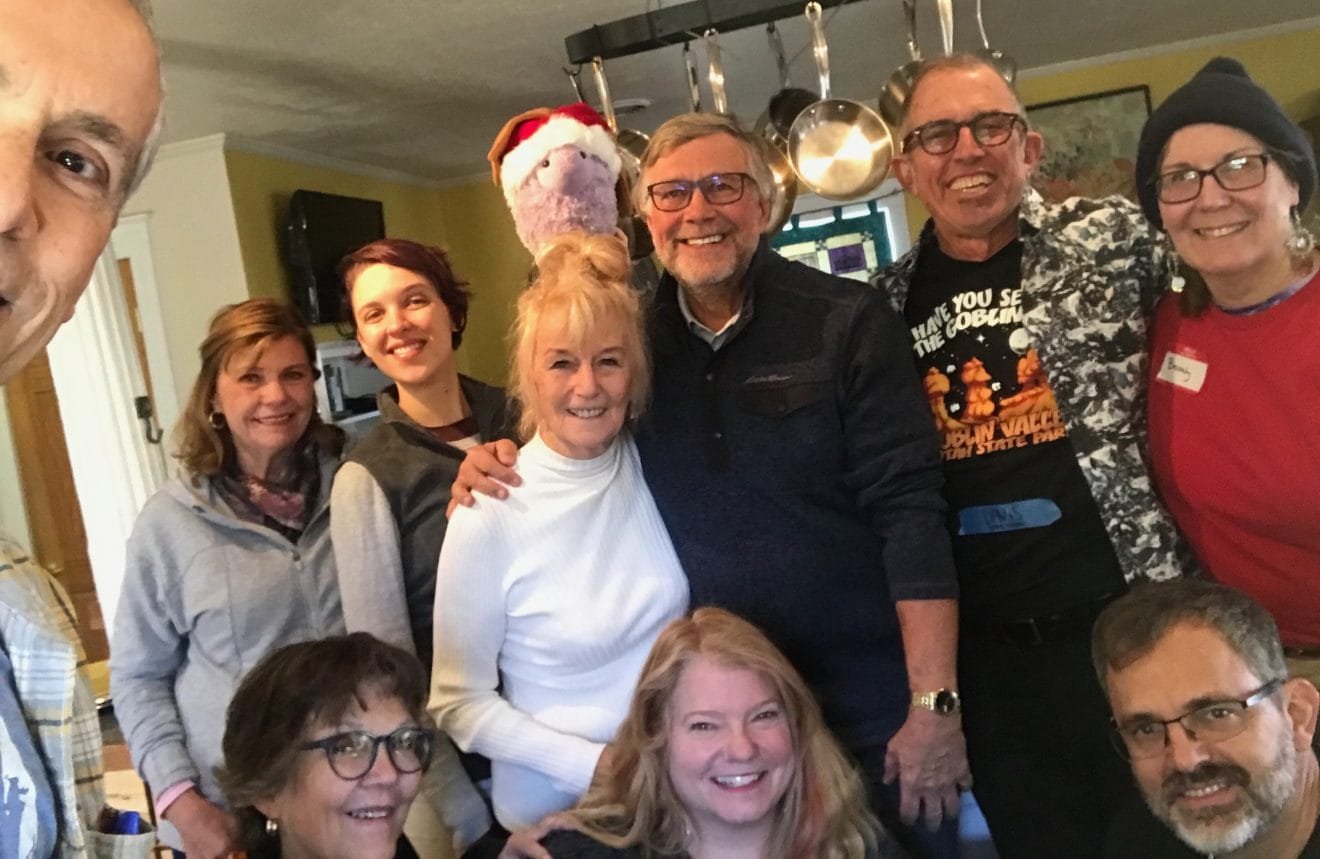 Thanks to my latest "batch" of "Song of Love" songwriters at the recent Moab Folk Camp. In 90 minutes we co-wrote (from beginning to end) a song for Aniat Hernandez, a little girl from Massachusetts with a brain injury from birth. Since it's inception in 1996, the non-profit Songs of Love foundation has provided 33,000 (not a typo) families with custom made songs for their health-challenged children. 2020 will mark my 22nd year of participation in this meaningful effort. They accept your donations too. Every little thing we can all do can make a difference somewhere for somebody. Hop on board!
Many of you remember my friends in Florida from Abilities Venti, an organization completely run by people with different skills (that's our t-shirt above). Remember a couple years ago when you helped me gather over $1300 worth of coffee cards for these special people (that was $100 per person!) that we gave them to welcome in 2018? It was nothing short of astounding. Well here comes 2020 and I have a concert North Miami at the Luna Star Cafe on Thursday, January 30th and I'm wondering if there are 18 of you out there who'd be willing to sponsor one of the 13 AV members and 5 staff) to attend this event...it's steeper than they can individually afford (about $30 per person with the concert and food minimum) in a charming little cafe that holds about 50 folks. IF this is something you can consider, kindly send a check for the thirty bucks made out to:
Abilities Venti
and sent to AV c/o Carol Rudinsky (of my song "Mary Jo and Carol!)
9200 N Hollybrook Lake Drive #109
Pembroke Pines, FL 33025
I will surely report back the results of our efforts and time together.
You have our gratitude for your consideration!


On the horizon...
JANUARY 2020
6-10 Provincetown, MA ~ Cape Cod Songwriters Retreat (7th year!) full


11 Danbury, CT ~ 7 PM concert at

UU Congregation of Danbury


12 Danbury, CT ~ 10 AM guest musician @ UU of Danbury




18 Rockville, MD ~ 4th annual

UnNaugural Concert
19 Oakton, VA guest musician @ Unity of Fairfax, Dr. MLK Jr. Sunday
20 Sarasota, FL ~ 7 PM concert at CSL Cultural Coast (MLK Day)
21 Eustis, FL ~ 7 PM concert @ UU Congregation of Lake County
22 Ormond Beach, FL ~ 7 PM at UU Congregation of Ormond Beach


23 Sunny Isles, FL ~ private event


24 Jacksonville, FL ~ 7:30 concert at UU Church of Jacksonville
25 Melrose, FL ~ the Melrose Center ~ contact dbdulcimer@gmail.com
26 Jacksonville, FL ~ Buckman Bridge UU, guest speaker
27 Tallahassee, FL ~ 7 PM concert @ Unity of Tallahassee
28 St Petersburg, FL ~ 7 PM St Petersburg Society of Friends
29 Melbourne, FL ~ 7 PM concert @ Unity of Melbourne
30 North Miami, FL ~ Luna Star Cafe ~ music @ 8 PM
31 Del Rey Beach, FL ~ private event

FEBRUARY 2020
6 Brewster, MA ~ the Full Moon Ope Mic returns! Year #16!
9 Warwick, RI ~ 9:30 AM speaking @ Concordia Center for Spiritual Living
20 Houston, TX ~ (tent)
21 San Marcos, TX ~ Supple Concert Series @ Texas State University
22 looking for something in Dallas/Arlington area :-)
23 Farmers Branch, TX ~ guest speaker @ Cathedral of the Light
23 Fort Worth, TX ~ 1 PM concert @ Harmony Spiritual Center

MARCH 2020

4 Branford, CT ~ private event
15 Portland, OR ~ Ron, Sandy, & Marion present...
19 Salem, OR ~ 10:30 AM ~ guest speaker, UU Congregation of Salem


19 Oregon Coast ~ PM, tba


21 Freeland, WA ~ Trinity Lutheran Church - 3rd Annual!
22 Freeland, WA ~ songwriting workshop in the AM


22 Anacortes, WA ~ tba
23 Seattle, WA ~ Bring-A-Chair Concerts ~ more info coming
"I alone cannot change the world,
but I can cast a stone across the waters to create many ripples."

―