Autumn's in full swing, and my ongoing world tour continues (32 years and counting). This (above) was my 9th appearance (starting in 1994 - gasp!) at the Wisconsin Singer Songwriters Series north of Milwaukee last weekend...great turnout and a finely honed community-building enterprise.
As the news gets crazier and crazier the folk community remains steadfast. My gratitude is deep and ongoing to my native Midwest. And to all of you elsewhere for sticking with me all this time.


Stopped by a vegan cafe ~ Purple Sprout ~ in the northern suburbs of my hometown Chicago on this trip. Check out the "business model" of this place in the next two photos (and the artwork hanging on their wall at the bottom of this newsletter). This would be a regular stop if I lived closer, and will be when I'm passing through.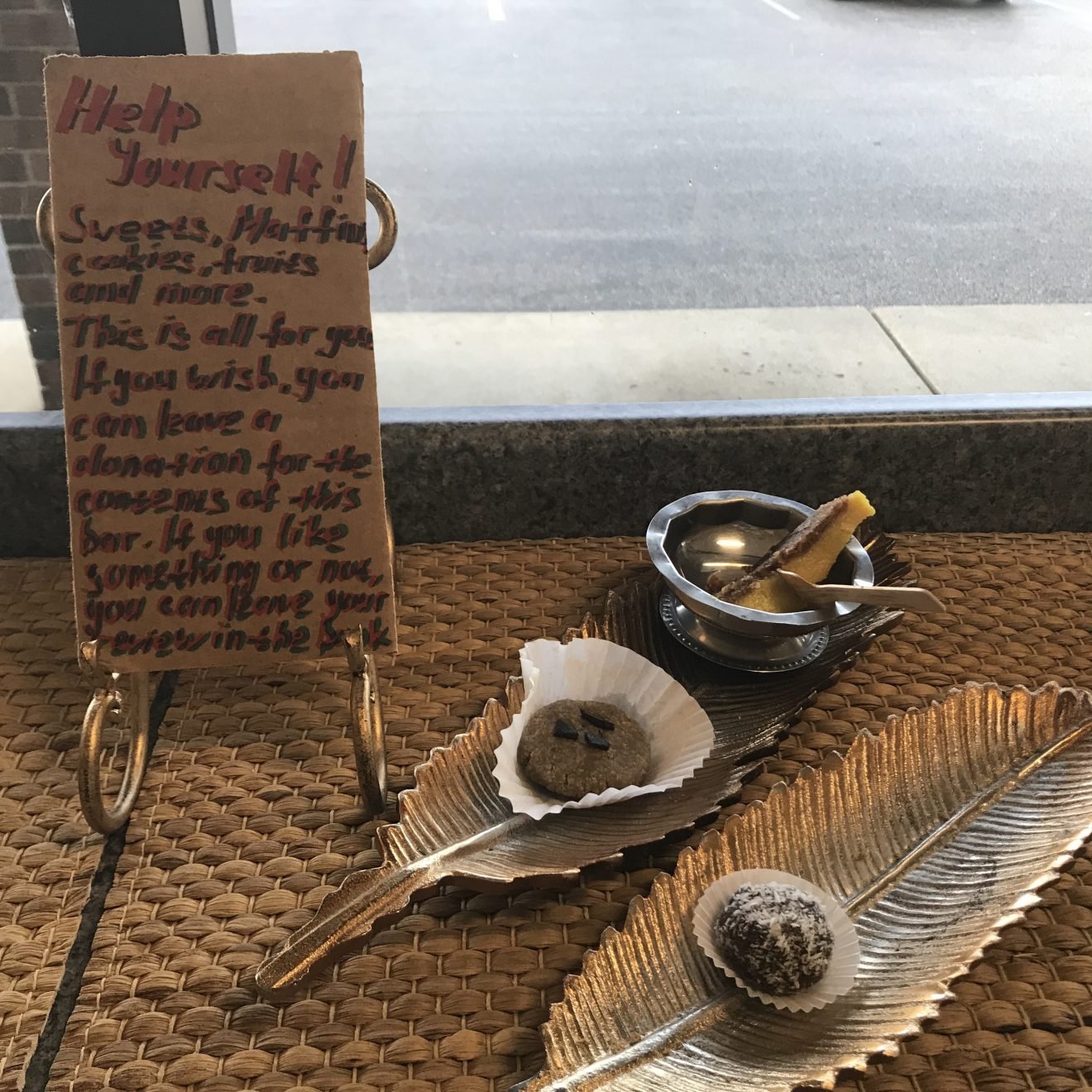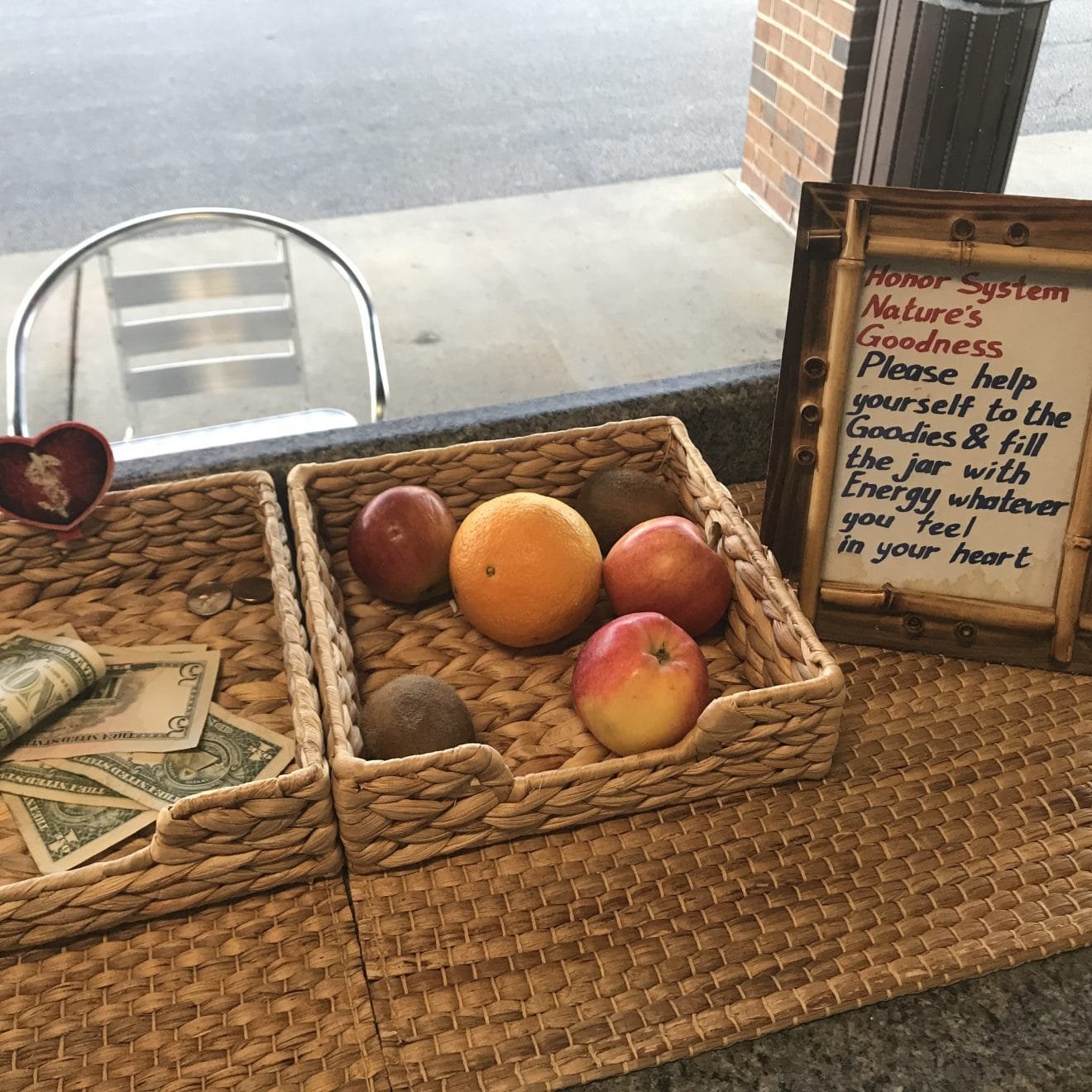 Rafting trip #3 is in the books (that's us below a few weeks ago) and we plan to go one more time next August 13-20, 2020. This time we go down the Main Stem of the River in Idaho...a new route for us! Same great company (Middle Fork River Expeditions - MFRE), morning coffee, expert guides, happy hours, meals, campfire music, DIGITAL DETOX... Are you ready? Baby boomer friendly.
On the horizon...
OCTOBER
13 Quincy, MA ~ 10:30 AM ~ Church of the Presidents UU guest speaker
18 Shelburne Falls, MA ~ private event
19 Rochester, NY ~ 7:30 PM concert @

Unity of Greater Rochester


20 Honesdale PA ~ 5 PM ~
RiverFolk Concerts


27 Salt Lake City UT ~ 10:30 guest speaker, Center for Spiritual Living SLC
27-31 Moab, UT ~ Moab Folk Camp!

NOVEMBER
2 Glen Allen, VA ~ 8 PM Shady Grove Coffeehouse
3 Gaithersburg, MD ~ 7:30 PM Gaithersburg Art Barn sponsored by WFMA
10 Brewster, MA ~ Yoga in Yelapa (MX) fundraiser - First Parish Brewster
22 Wauwatosa, WI ~ 7:30 PM Unity Center Milwaukee
23 Wauwatosa, WI ~ 10 AM - Noon - ALL levels songwriting workshop
23 St Charles, IL ~ 7:30 PM

Fine Line Creative Arts Center
24 Evanston, IL ~ 2 PM concert @ Unity on the North Shore
26 South Yarmouth, MA ~ Station Ave Elementary Thanksgiving assembly

JANUARY 2020


6-10 Provincetown, MA ~ Cape Cod Songwriters Retreat (7th year!)




11 Danbury, CT ~ 7 PM concert at

UU Congregation of Danbury


12 Danbury, CT ~ 10 AM guest musician @ UU of Danbury




18 Rockville, MD ~ 4th annual

UnNaugural Concert
19 Oakton, VA guest musician @ Unity of Fairfax, Dr. MLK Jr. Sunday
20 Sarasota, FL ~ 7 PM concert at CSL Cultural Coast (MLK Day)
21 Eustis, FL ~ 7 PM concert @ UU Congregation of Lake County
22 Ormond Beach, FL ~ 7 PM at UU Congregation of Ormond Beach


23 Sunny Isles, FL ~ private event


24 Jacksonville, FL ~ 7:30 concert at UU Church of Jacksonville
26 Jacksonville, FL ~ Buckman Bridge UU, guest speaker
27 Tallahassee, FL ~ TBA
28 Del Rey Beach, FL ~ TBA

MARCH 2020


4 Branford, CT ~ private event
An impeachable offense is whatever a majority of the House of Representatives considers it to be at a given moment in history.
When people ask if the United States can afford to place on trial the president, if the system can stand impeachment, my answer is,
"Can we stand anything else?
The Democrats had long labeled the impeachment debate a distraction from the urgent business of a great nation. But the Republicans argued that the pursuit of justice is the business of a great nation. In winning this point, they caught the falling flag, producing a triumph for the rule of law, a reassertion of the belief that no man is above it, and a rebuke for an arrogance that had grown imperial.
~ Peggy Noonan

Autumn is a second spring when every leaf is a flower.
―