Greetings friends. How you holding up these days?
Here's how I am: I met up with Tammy Leland of Crooked Trails in Seattle during my just-concluded Pacific Northwest tour to discuss a possible musical tour of Cuba through the travel company she co-founded in 1998 with Christine Mackay.
We're looking at the following dates
February 14-23, 2020
for the adventure and wonder if there are 14 of you who want to come along!


From the Crooked Trails website: "The central goal of all Crooked Trails travel programs is to allow you, the traveler, the opportunity to forge meaningful connections with people and place and enjoy authentic, culturally immersive experiences. We committed to creating the most environmentally and culturally sustainable programs possible."




My father's family (from the Ukraine) emigrated to the U.S. through Cuba, where they lived from 1923-1927. And by the way, those old cars in the photo above are what the Cuban streets and highways are currently loaded with. We're going back in time.

I'll have more details soon. The trip will be in the neighborhood of $2700 per person (add $100 for the special visa to visit Cuba) plus your airfare to and from Havana and based on double occupancy, and it will be loaded with music, magic, and meals!
Kindly write me immediately if you're interested in getting on this list so we can see about green-lighting our plans. Thanks!
davidrothmusic@gmail.com
Introduction to Songwriting and the Instant Angelic Choir at McDaniel College
MANY other workshops and events at this cross-cultural weeklong experience - check out the website...


* * SummerSongs ~ Stony Point, NY
July 21-27, 2019. Songwriting, singing, coffeehouses, concerts,
ALL levels...join us on another jumpstart to joy entering our third decade!
w/ the Kennedys, Dan Navarro, Tret Fure, Sloan Wainwright, and more...


** Rafting the Middle Fork ~ Stanley, ID
2 spots left on this boomer-friendly and exciting 75 miles of the Salmon River, 6 days/5 nights of digital detox, camping, 6 expert guides, 3 great meals and happy hour daily, singing by the campfire at night,
coffee at daybreak...

** Moab Folk Camp ~ Moab, UT
October 27-31 ~ led by Cosy Sheridan, with David Surrette, Susie Burke, Cara Luft, and more...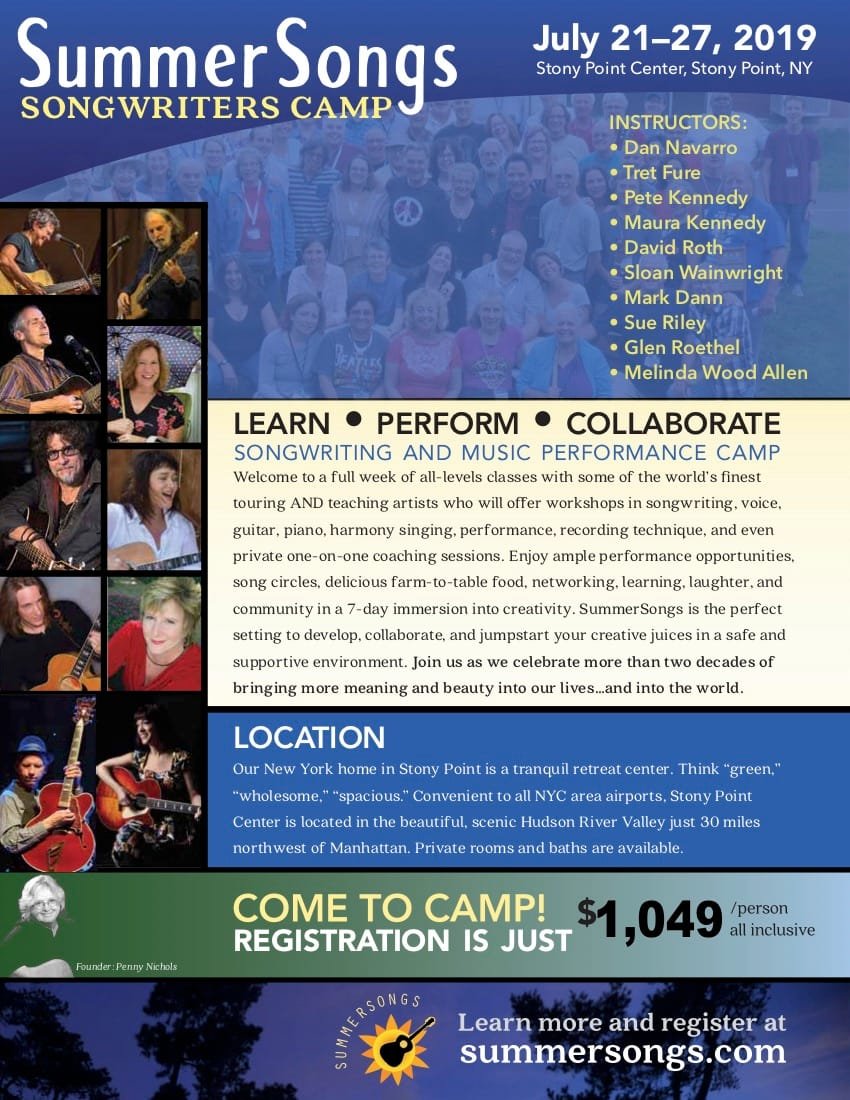 7 Gaithersburg, MD ~ guest speaker @ Unity of Gaithersburg
7-12 Westminster, MD ~
Common Ground on the Hill workshops, music
13 Rockville, MD ~

Mattie Stepanek

Annual Peace Day festival
14 Bel Air, MD ~ Liriodendron Mansion
21-27 ~ Stony Point, NY ~ 21st Annual

SummerSongs songwriting camp

AUGUST
5-6 New Haven CT ~ Healing, Education, Laughter, Play (HELP) @ SCSU
9-11 Rhinebeck, NY ~ Omega Institute weekend w/Dan Millman
24-29 Stanley, ID ~ 4 spots left, 3rd Annual

Rafting trip on the Salmon River

SEPTEMBER
14 Middleborough, NY ~ Joe Davies Folk Festival
15 Provincetown, MA ~ "Great Music @ 5" series at the UU Meeting House
18 Douglas, MI ~ 7 PM @

Unity on the Lakeshore


19 East Lansing, MI ~

East Lansing Public Library
20 Ann Arbor, MI ~

Greenwood Coffeehouse
21 Garden City, MI ~

Garden City Presbyterian Church




22

West Bloomfield, MI ~ West Bloomfield Public Library, 3 & 4:30 PM
23 Wixom, MI ~ private event (tent)

OCTOBER
4 Mequon, WI ~

Wisconsin Singer Songwriter Series

(WSSS)
5 St Croix Falls, WI ~

Dancing Dragonfly Winery

(7th Annual)
6 Rochester, MN ~ 9 & 11 AM guest speaker @ First UU Church
6 Minneapolis, MN ~ TBA
7 Kenosha, WI ~ Meals That Matter Soup Kitchen Fundraiser
13 Quincy, MA ~ 10:30 AM ~ Church of the Presidents UU guest speaker
18 Shelburne Falls, MA ~ private event
19 Arlington, VA ~ KateChris Productions
20 Honesdale PA ~

RiverFolk Concerts


27-31 Moab, UT ~ Moab Folk Camp!

NOVEMBER
2 Glen Allen, CA ~ Shady Grove Coffeehouse
3 Bethesda, MD ~ World Folk Music Association (WFMA)
22 Wauwatosa, WI ~ Unity Center concert
23 St Charles, IL ~

Fine Line Creative Arts Center
24 Evanston, IL ~ TBA

A fool thinks himself to be wise,
but a wise man knows himself to be a fool