Greetings friends. Here's the amazing Snow Moon-rise from the Lands End Inn last week in Provincetown, MA. And next week we gather there again for the 11th Cape Cod Songwriters Retreat. They call this place "a view with a room" for good reason.
I look forward to another immersion in creativity and community
(plan ahead to join us in 2020). It all winds up with music in the round in Harwich on Friday night March 8th for Singing Oak Concerts
featuring Sloan Wainwright, Harold Payne, Glen Roethel, and yours truly.
A blast!
We four gather again at the end of the month (with many others) for the 14th Annual Positive Music in Tampa sponsored by Empower Music and Arts. Check it out
(it's for musicians, fans, friends, and everyone else) at


https://www.empowerma.com/Festiva

l and join us (pre-festival songwriting workshops on Wednesday, March 27th). I've been to just about every one,
and it's a place of sanity in this crazy world of ours.

Looking for some music-making later on in the year? Join me and yet another host of amazing teaching artists at the 21st annual SummerSongs in Stony Point, NY July 21-27, 2019. I've been to every one of these since 1999 and all it's done is changed my life in more good ways than I could say. Everlasting thanks to founder Penny Nichols.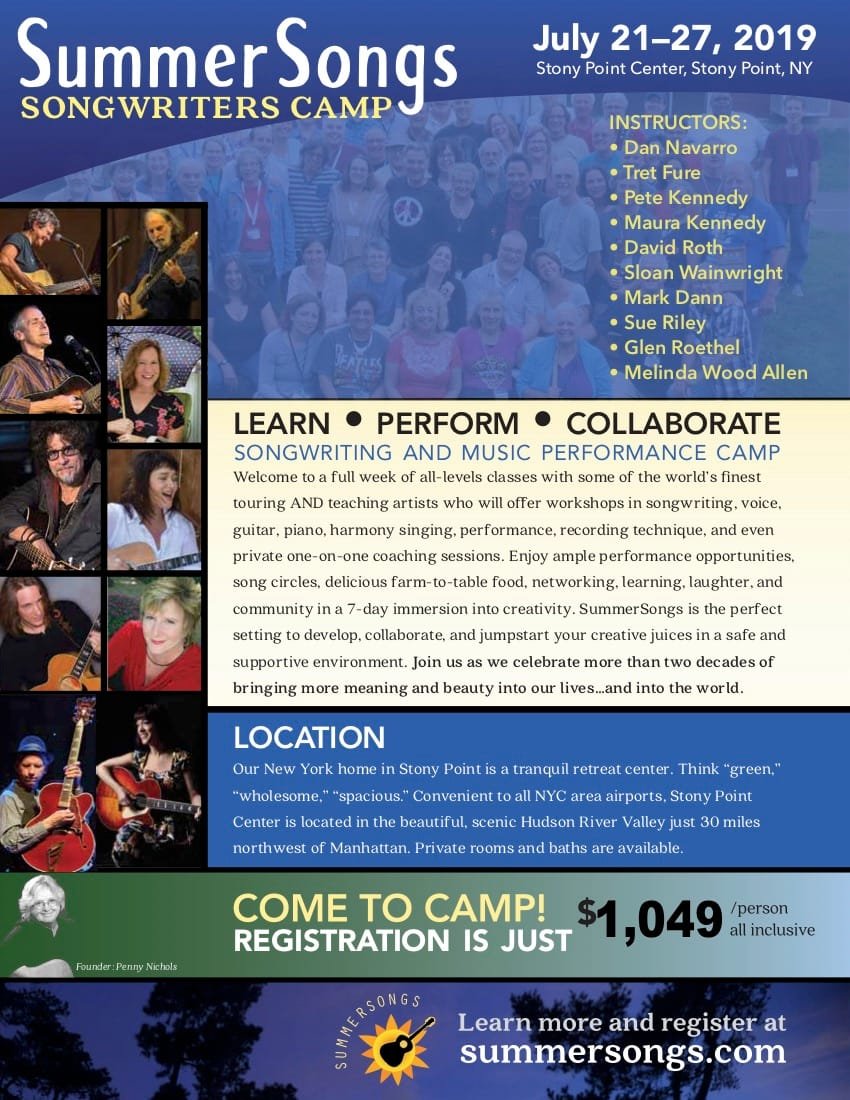 MARCH


APRIL
2 Tamarac, FL ~ contact robby.greenberg@gmail.com
10 Brewster/Harwich, MA ~ Full Moon Open Mic, our 15th year ~ TBA
19 Pittsfield, MA ~
Bread and Roses Coffeehouse
26 Bellingham, WA ~ looking for a spot in B'ham - any ideas?
27 Seattle, WA ~

Seattle Folklore Society
28 Anacortes, WA ~ 10:30 AM guest speaker @

Center for Spiritual Living
28 Snohomish, WA ~ 4 PM

Tim Noah Thumbnail Theater
29 Freeland, WA ~ Trinity Lutheran Church (2nd annual)
30 Olympia, WA ~ 7 PM concert @
Unity of Olympia


MAY
1 Portland, OR ~ contact rbekey@gmail.com
2 Eugene, OR ~ contact edwardeconrad@gmail.com
3 Salem OR ~ 11:30 AM Institute of Continued Learning @ Willamette U.
3 Salem OR ~ 7 PM concert @
Unity of Salem
4 Medford, OR ~ 7 PM concert at

CSL Rogue Valley
5 Cloverdale, OR ~ Istanbul Rug Bazaar
6 Gates, OR ~

Gates Fire Hall
17-19 Stony Point, NY ~

Folk Project Acoustic Getaway Weekend
24-28 North Carolina ~ in the works

JUNE
4-13 Mayo, Galway, Clare, Ireland ~ musical tour

(full)
* next available trip September 9-18, 2020
21 Morristown, NJ ~
Minstrel Coffeehouse
22 Sterling, VA ~ Focus Music presents...
23 Bon Air, VA ~ Unity of Bon Air ~ song-sermon and concert

JULY
"Patriotism is supporting your country all the time
and your government when it deserves it"
Mark Twain

Wishing you well, as ever
david